If student loans feel like the barrier between a healthy financial future and where you are now, you're not alone. The Federal Student Aid reported 11.5 million people with outstanding Federal Family Education Loans (FFEL) alone as of Q2 2020. Luckily, federal student loans come with options for managing your debt. A popular option among student loan recipients is income-driven repayment.
With this type of repayment method, the remaining balance of your debt could be forgiven after the allotted time, but not without you paying income tax on that balance. The question at the forefront of many postgraduates' minds then is, does income-driven repayment affect my credit score? The program itself does not, but the results of changing your payment structure could come back to haunt you if not managed properly.
What Does Income-Driven Repayment Mean?
Income-driven repayment (IDR) is a type of plan that reestablishes your student loan payments based on your discretionary income and family size. The payment can increase or decrease annually depending on changes to each of these factors. The remaining balance at the end of the loan is generally forgiven. Keep in mind that you'll typically pay income tax on the forgiven balance, plus you'll end up paying a higher interest rate over time because you're paying a lower amount per month.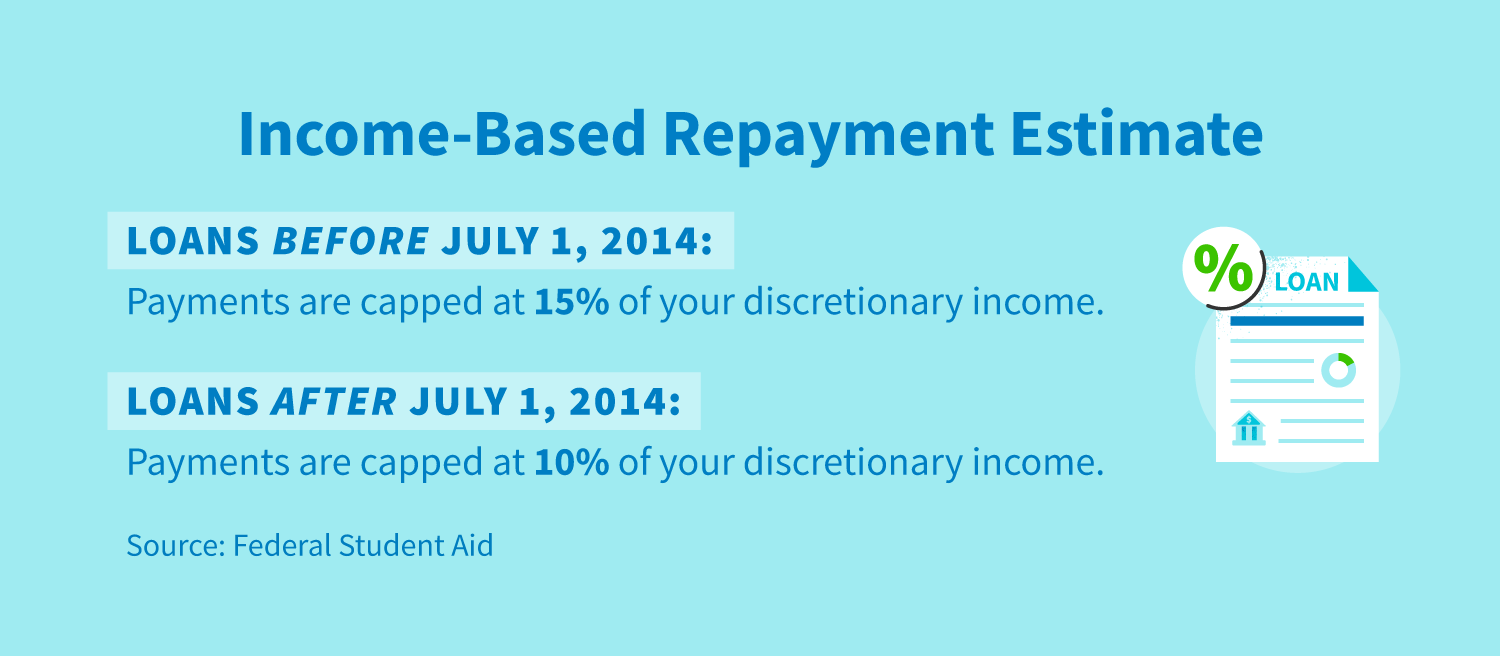 There are four types of income-driven repayment plans, including the Income-Based Repayment Plan (IBR Plan), the Income-Contingent Repayment Plan (ICR Plan), the Revised Pay As You Earn Repayment Plan (REPAYE Plan) and the Pay As You Earn Repayment Plan (PAYE Plan). While each program has its own eligibility requirements, most federal student loans qualify for at least one.
Income-Driven Repayment Considerations
While lenders typically don't consider a repayment plan a negative attribute of borrowers, your credit score can be impacted if payments are mismanaged. To improve credit with an income-driven repayment plan, make payments on time every month to get to a debt-free status as quickly as possible. 
Before applying for a repayment plan, consider the pros and cons.
Pros:
Lower debt-to-income ratio: Income-driven repayment lowers your monthly payments to reduce your monthly debt-to-income ratio, calculated by monthly debt obligations divided by gross monthly income.
Reduced monthly payments: While IDR lengthens the term of your loan, your monthly payments will be reduced, often to effectively avoid missed payments and lend more financial stability.
Loan forgiveness: After making consistent payments for the entirety of your loan term, the remaining debt can be written off by the creditor, but it will be considered taxable income.
Cons:
Higher interest: Because the loan term is extended between 10 and 20 years, you'll typically end up paying more in interest over time. 
Recertification requirements: Borrowers using IDR plans have to recertify their income and family size every year to remain qualified for the plan. If missed, the monthly payment can increase to its original amount.
Debt term: Because the debt term is a factor that lenders use to qualify borrowers, your chances of getting a new line of credit may be negatively affected for a longer period of time.
Income-Based Repayment Eligibility
To qualify for an income-driven repayment plan, you need to meet certain criteria and hold a direct federal loan or, in some cases, a Federal Family Education Loan (FFEL).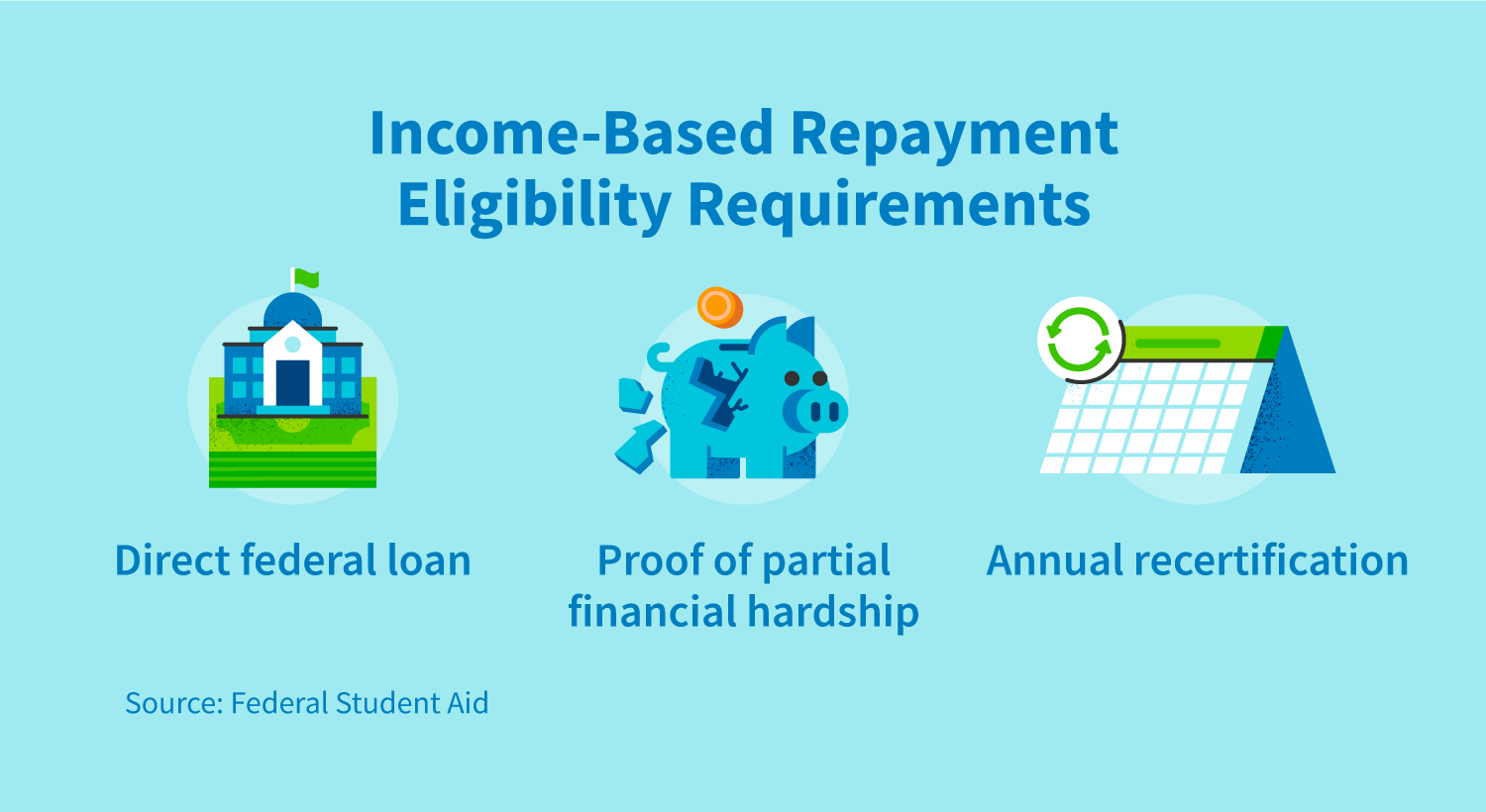 Depending on the plan you apply for, you may need to qualify before you're eligible. For example, you can provide evidence that the amount you pay on a standard 10-year loan is more than the monthly amount of an income-driven plan.
For IBR and PAYE Plans, you have to qualify first by proving the student loan balance is greater than your annual salary. ICR and REPAYE Plans are available to anyone with a direct federal loan or FFEL.
Which Income-Driven Repayment Plan Is Best?
Choose the income-driven repayment plan that provides the most benefits based on your circumstances. Each plan varies when it comes to monthly payments, the loan term and the types of loans that qualify. Speak directly with your loan officer to determine which plans you qualify for.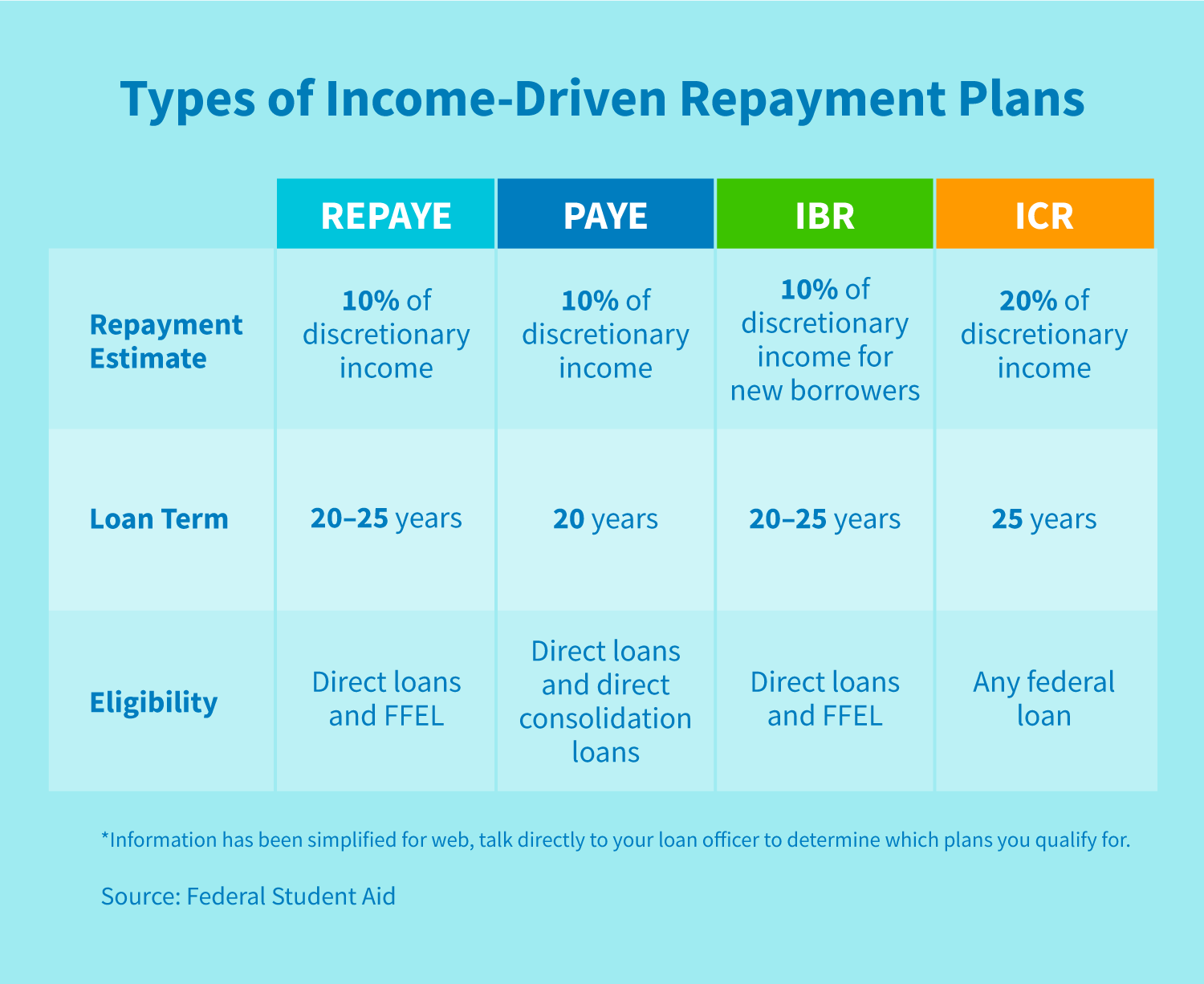 Revised Pay As You Earn Repayment Plan (REPAYE)
REPAYE Plans are typically 10 percent of discretionary income and extend the repayment term to 25 years for graduate and professional loans, and 20 years for undergraduate loans. Because there is no cap on the repayment amount, there is a possibility that this loan is greater than your existing one.
Pay As You Earn Repayment Plan (PAYE)
PAYE Plans are typically 10 percent of discretionary income, but never higher than the standard 10-year amount. This plan extends the repayment period to 20 years. To qualify, you have to send proof of financial hardship annually. While FFEL is not qualified to restructure payments to a PAYE Plan, you can consolidate loans to meet the eligibility requirements.
Income-Based Repayment Plan (IBR)
Payments on loans before July 1, 2014, are capped at 15 percent of discretionary income, while payments on loans after July 1, 2014, are capped at 10 percent of discretionary income. Neither will be greater than the standard 10-year repayment plan amount. The IBR Plan extends payment terms to 20–25 years.
Income-Contingent Repayment Plan (ICR Plan)
Under an ICR Plan, the payments are either 20 percent of discretionary income or the amount of fixed repayment over the course of 12 years—depending on which is less. ICR Plans are available to anyone with a federal loan, including parents. Repayment terms are extended to 25 years.
Because there are four different income-driven repayment options, it's important to determine which will be the best in your circumstance so you don't default on your loan—which can be catastrophic to your credit score. Many of the plans come with specific requirements, and you'll want to ensure you requalify annually to remain under the plan. Just make sure to keep an eye on your credit as you move forward with whichever income-driven repayment plan you choose to pursue.
Source:Federal Student Aid