The information provided on this website does not, and is not intended to, act as legal, financial, or credit advice.
Experian Boost is a product that allows consumers to include their utility payments and phone bills in their credit score calculations, and it is based on data from Experian, one of the three major credit bureaus.   
Experian Boost works by scanning your bank activity for certain bills such as water, gas, electricity and cell phone plans. If you have a positive payment history of three months or longer and you give your consent, Experian Boost will add these items to your credit report. The goal is to boost your credit score by showing a history of on-time, responsible payments—even if you aren't able to qualify for a credit card or loan yet.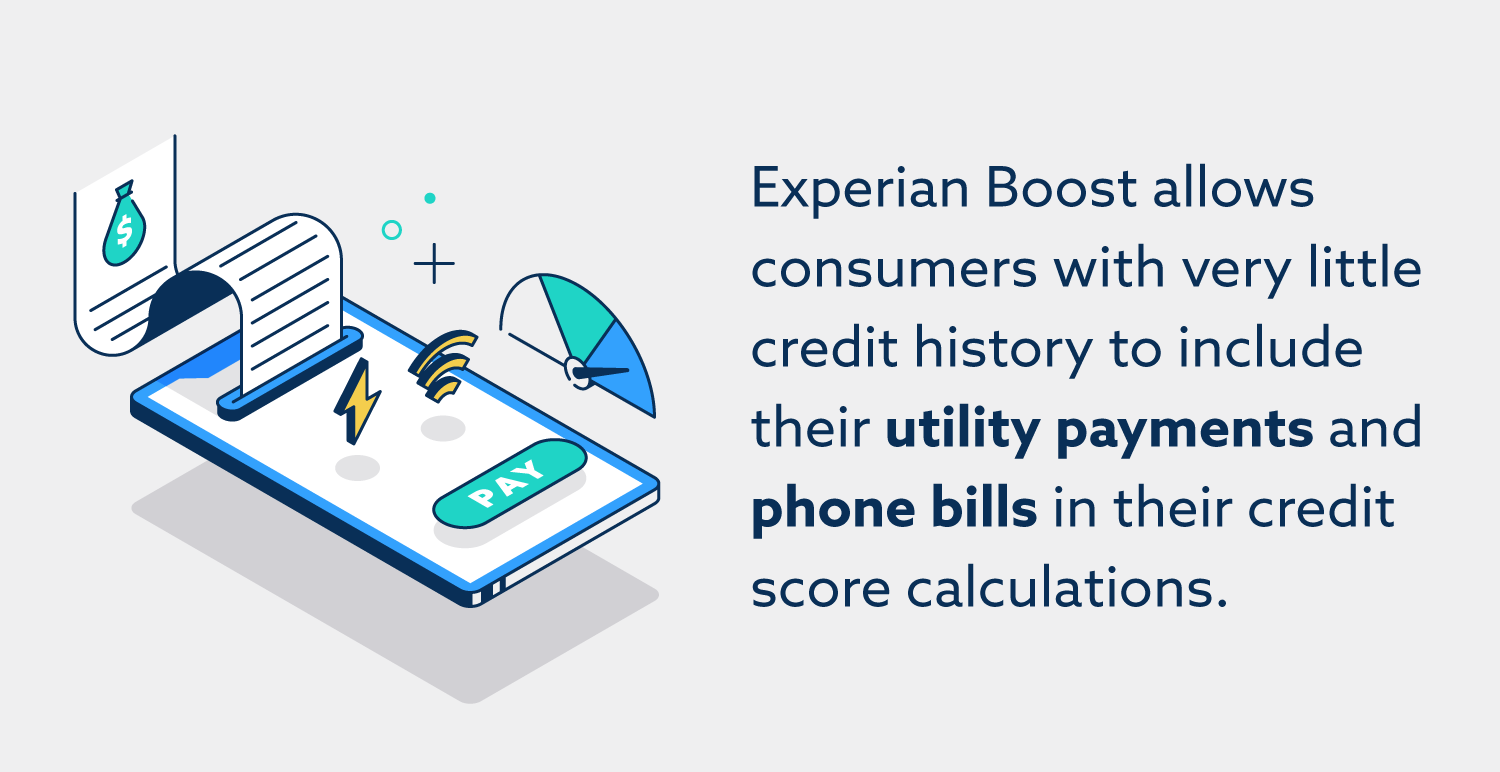 Potential Benefits of Experian Boost
The main benefit of Experian Boost is that it can't hurt your credit score. If you do happen to miss a utility or phone bill payment, it will not be included. However, since these late payments may show up on your credit report anyway, it's best to focus on making on-time payments whether or not you choose to use Boost.
You also have total flexibility—so if you decide you no longer want or need to use Experian Boost, you can disconnect at any time.
Potential Drawbacks of Experian Boost
One potentially negative aspect of Experian Boost is that, since it is relatively new, lenders who view your utility and cell phone payments may see it as part of your debt load. This could affect your ability to qualify for a line of credit.
Additionally, some people are concerned about whether Experian Boost is safe, and they may be hesitant to share bank account information with a third party. However, Experian emphasizes the safety and security of their private connection and lets consumers withdraw their permission for Experian to access bank account info at any time.
Lastly, Experian Boost only affects your score with the Experian credit bureau—the other two major players, Equifax and TransUnion, remain unaffected. This means in the event that a creditor pulls your score from either of these bureaus, you won't benefit from Boost. Because Boost works with the FICO 8 scoring model, you won't be able to reap the benefit with most mortgage lenders, who still rely on FICO 2, 4 and 5.
Experian Boost vs. UltraFICO
UltraFICO is another product for those with very little credit history. Like Experian Boost, it looks at your bank activity to pull information to boost your credit. However, instead of using utility payments and cell phone bills, UltraFICO looks at your balance and account activity for your checking, savings and money market accounts. Primarily, it measures how much you have in savings, how old your accounts are and if you've had checking account overdrafts.
According to the website, UltraFICO claims that seven in 10 U.S. consumers who have "consistent cash on hand" could see an UltraFICO score higher than their regular FICO score. Additionally, you may be able to generate an UltraFICO score even if you don't have enough credit history to generate a regular FICO score.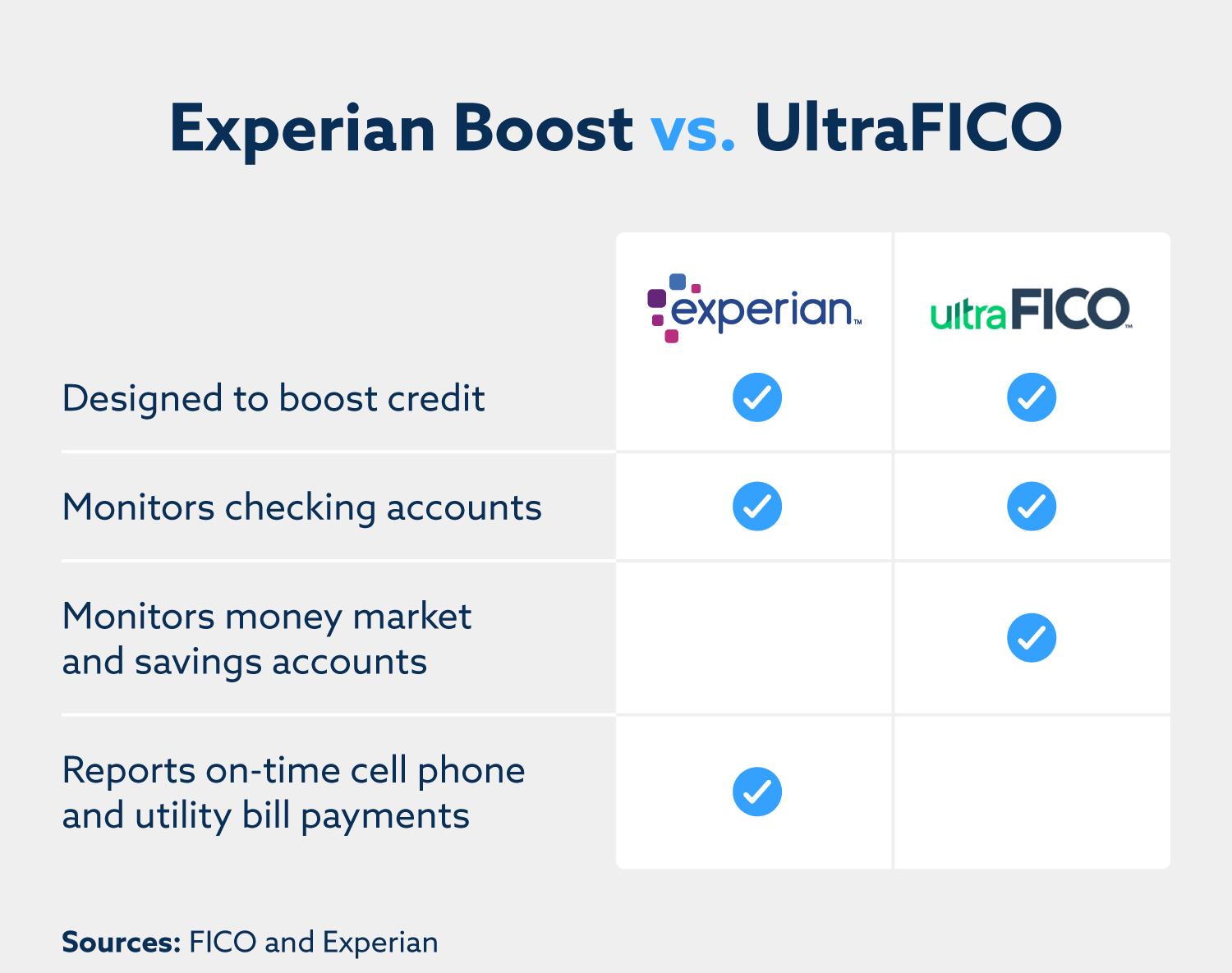 Other Ways to Improve Credit
While programs like Experian Boost and UltraFICO have their benefits, they're not the only ways to improve your credit. In fact, there may be other options better suited for your unique situation, such as a credit builder loan or a credit repair service.
Credit Builder Loan
A credit builder loan is a loan that consumers can apply for with little to no credit history. They're relatively small loans typically ranging from $300 to $5,000 that help you build credit as you pay them off over the course of six to 24 months. The money doesn't become available until you fully pay the loan off. You may even be able to receive a refund on any interest paid.
After you've made consistent on-time payments on your credit builder loan, you'll have some credit history that shows creditors you're a trustworthy borrower. This may act as a stepping stone to getting a larger loan or a mortgage.
Credit Repair Firm
If you're looking to improve your credit-based on some negative items on your credit report, credit repair services—like what we offer at Lexington Law—can help. Credit repair services are designed to review your credit report and help you work to remove unfair, inaccurate or accidental items on your report that could be hurting your score. 
Millions of Americans are victims of credit report errors, and many don't realize it. The formal process of disputing these errors can be time-consuming and confusing, but credit repair companies make it easy by doing the work for you. To learn more, talk to our team about how we can potentially help you reach your credit score goals.